Mandingo is another fine banana e-juice from Ruthless. This Southern California-based company makes some of the best vapes on the market
today. Mandingo is an amazing e-juice that will give you a thrilling vaping experience. This e-liquid is a blend of banana, cinnamon and nut bread flavor. Mandingo is a complex e-juice, but the flavors come together very well. It has a sweet, dry, and velvety taste that will delight your taste buds. This is a unique and interesting e-liquid. There is nothing else like Mandingo out there. This Ruthless e-juice can easily become an all day vape. The taste isn't overwhelming and won't give you vaper's tongue.
Mandingo is one of my favorites in the Ruthless E-Juice line. It is a mix of come of the flavors that I have a weakness for. This e-juice stands out because of its unique flavors, and it doesn't have a weird taste. While vaping this e-juice, you will get the velvety banana flavor with cinnamon on the inhale. The taste does not change much on the exhale, but the sweetness is more pronounced. You will get notes of all the different flavors on the exhale. This is a subtle vape juice. Mandingo will take you for a spin. The taste of this e-liquid will awaken your senses and lingers in your mouth for quite a while.
If you purchase a bottle of Mandingo and the taste does not match the flavor depiction, give it some time to steep. Steeping will allow all the different flavors to mix well so you get the real taste of the e-juice when you vape it. This e-juice will get a yellowish darker tinge after it has been left to steep.
Mandingo has a vegetable glycerin (VG) and propylene glycol (PG) ratio of 60/40. You will enjoy this e-juice whether you choose to vape it with a sub ohm tank or an RDA. You can vape Mandingo for quite a while before you would need to clean your coils and change your wicking material. The vapor production of this e-juice is truly fantastic. It will give you nice clouds of vapor from each puff, especially if you are vaping with a good setup. If you are into cloud chasing, you will truly enjoy vaping this e-liquid.
Ruthless E-Juice's Mandingo is available with different nicotine concentration levels. You can get this e-juice with either 0mg, 3mg or 6mg of nicotine. Mandingo does not have a nasty throat hit. The version of this e-juice with 3mg of nicotine has a smooth throat hit. If you need an intense throat hit, you may have to go for 6mg of nicotine. You could also mix Mandingo with another e-juice that has a higher nicotine level to improve the throat hit and nicotine buzz. This e-juice won't give you with any throat issues.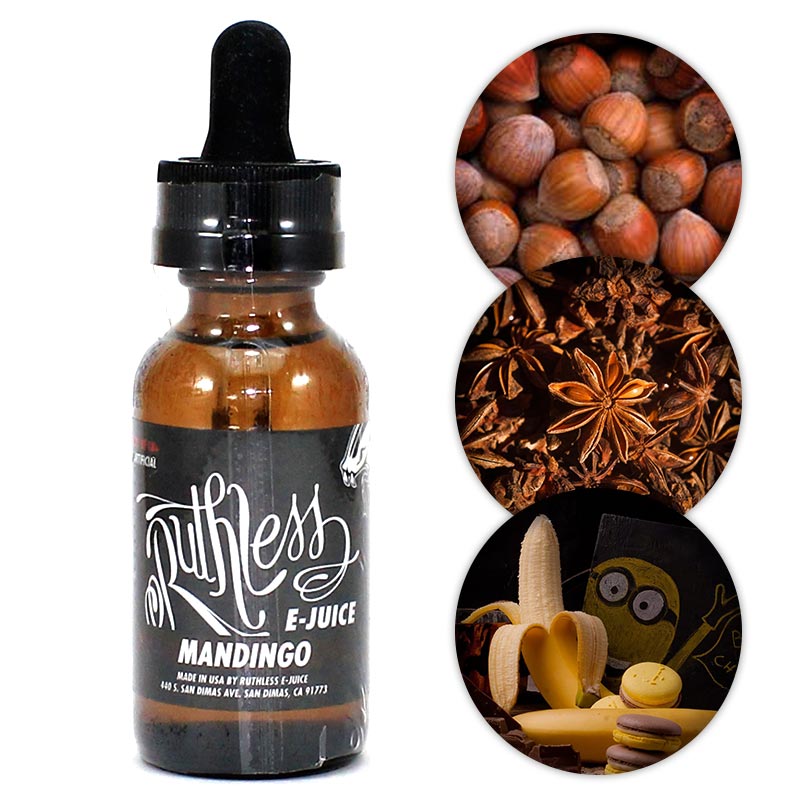 Mandingo has a classic packaging design. It comes in a clear brown bottle with a black childproof dropper cap. There is a label on the bottle with the Ruthless logo and other information about the product. The packaging design of this e-juice is eye-grabbing. You will have no issues refilling your tank or RDA directly from the bottle without any spilling it.
Smoking Things has some of the best vape deals on the market today. You can buy Mandingo and other e-juices from Ruthless at www.smokingthings.com. A 60ml bottle of this e-juice is going to cost you $17.99 only. This is a discounted price so hurry and grab a bottle now.
Smoking Things provides excellent customer and quick delivery of orders! The store accepts popular multiple payment options and the whole process of ordering is easy.